The World's Most Affordable Luxury Weekender Bag
Our mission since day one was to create the most affordable luxury weekender bag on the planet; one that is practical, stylish and long-lasting.
For most people, when you think of a luxury leather weekender bag you typically think of brands like Louis Vuitton, Tumi, or Bally.


However, along with these brand names comes a hefty price tag.

The question is, how exactly did that come to be? How did we get to a place where the gap between a luxury leather weekender and a "regular leather weekender" (or whatever you want to call it) has become so vast?


At Monte & Coe we have always been determined to find the perfect balance between quality and price.
Our mission since
day one
was to create the most affordable luxury weekender bag on the planet; one that is practical, stylish and built to last a lifetime.
How exactly did we create the world's most affordable luxury weekender?
It took years of finding the perfect suppliers, searching for the right manufacturer(s), sampling prototypes (you should see our first one), sourcing top- quality Italian
wool
and the best
vegetable tanned leather
, testing different hardware from Italy, and learning from our early adopters, to bring a product into the world that we could truly be proud of.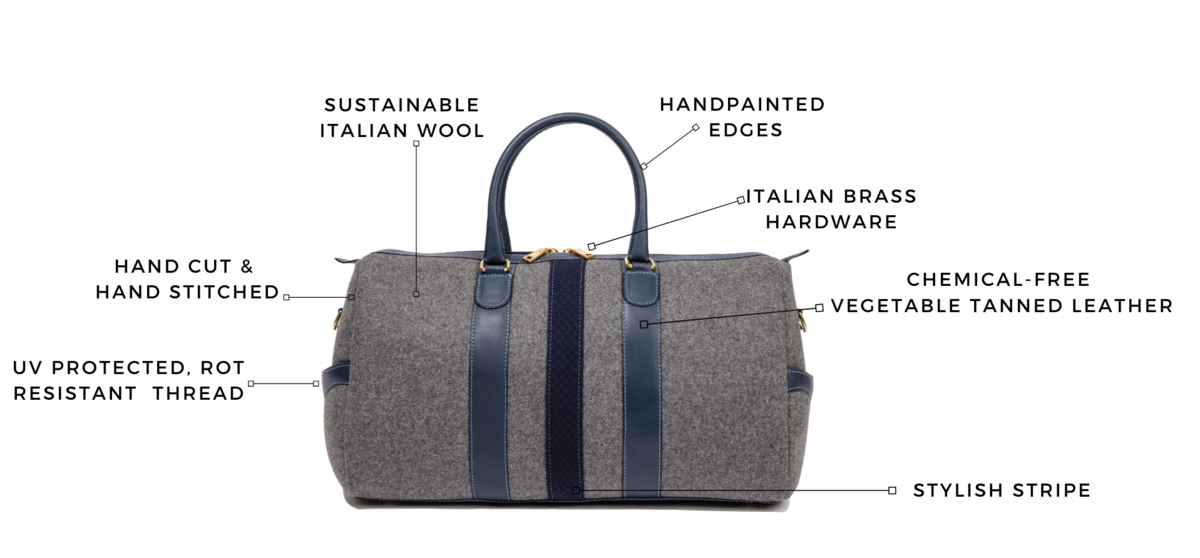 "So, how is Monte & Coe different from everyone else?"
Handmade in Toronto:
All our products are
handmade in Toronto
by expert craftsman with years of knowledge, passed down from generations. Each and every piece is hand-cut, hand-stitched, and hand-painted, ensuring world-class quality in each handcrafted product.
Sustainable Wool:
Our
wool
is our staple; we source it directly from Italy. We absolutely love it for its many qualities, especially because it's a sustainable, renewable and biodegradable. It's also super durable and tear resistance which is perfect for our weekender bags!
Chemical-Free
vegetable tanned leather:
the cream of the crop when it comes to leather. The vegetable tanning process is one of the oldest and most organic ways of tanning leather. Only 10% of the world's leather market uses vegetable tanning due to the lengthier process and higher cost associated with this method.
Responsible manufacturing:
Our entire collection is made by people that love their jobs. Everyone involved in the production of Monte & Coe products is
fairly treated
and work in factories governed by strict wage and labour regulations.
Quality control:
Because our production is
local
, we can visit our factories often which allows us to monitor every finished product before it is delivered to our customers. Our quality control process is vital to ensuring our customers are happy, not only on the day they receive their products but for years to come.
Style and Personality:
The contrast between our wool and leathers create a luxury feel that can elevate anyone's style. Our designs feature a unique stripe for a touch of personality, and our interiors are vibrant and exciting, for those that like to keep things quiet on the outside.
Luxury Hardware:
We source Italian gold plated brass to create a luxurious and distinguishable look. With the world-class finish comes true quality, as Italian brass, is built to withstand wear and tear.
Lifetime Warranty:
Every Monte & Coe product is proudly made to last the test of time. We believe that local manufacturing allows our team to perform strict quality control measures to ensure the longevity of each product. We chose wool that is known for being extremely durable and tear-resistant and leathers that patina with you over time. Take it to the gym, to the office or on your weekend getaway. While we are totally that you won't have to use the guarantee, it's a nice-to-have.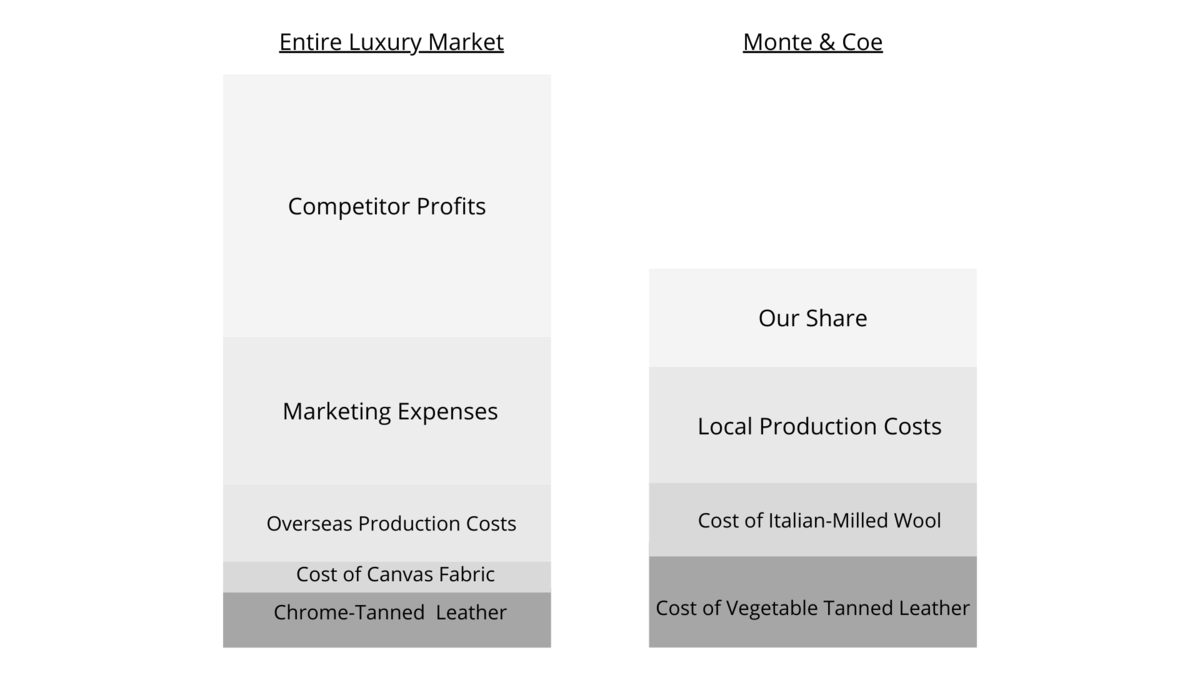 So, you're probably wondering how we plan on competing with the luxury giants I mentioned earlier?
Simple - we build a brand that's based on providing true value to our customers, by being transparent, and by being a morally responsible company brand that makes
an impact
on our community and the planet.
We do it by creating stylish designs using the best quality raw materials and manufacture in the most socially responsible way we can.
According to the film The True Cost, the fashion industry is now worth well over $2.5 trillion with 97% of all manufacturing being produced on the backs of low-wage workers in developing countries. Not to mention the environmental repercussions.


Yes, this is a huge problem, but we at Monte & Coe believe this to be a huge opportunity to be a part of the fashion revolution that contributes to the solution.
Follow our journey by following us on
Instagram
, joining our email newsletter, or visit our shop to see what's in stock!

Leave a comment